Good day, peers!
In this blog, buckle yourself as we are going full throttle on the impact and strategies behind personalized experience on business enterprises! Personalization and character are considered much more than just business strategies. Now, we are going to break down "Why and How" boundaries. Sit back and enjoy!
Just think of any brand name, Nike, Apple, or Louis Vuitton. Their audience and brand influence is mind-blowing, isn't it? We know people are going crazy over their products and services. It's hard to get a front-row ticket to watch an Apple launch. That shows the level of influence and how much customers love their brand.
All this hype can come down to Zero if the product is not up to expectations. People will leave frustrated if the new product has no features compared to the previous one, and they'll never book a front-row ticket in their lifetime. Exactly! Customer expectations matter, and they have an essential role in any brand or business journey.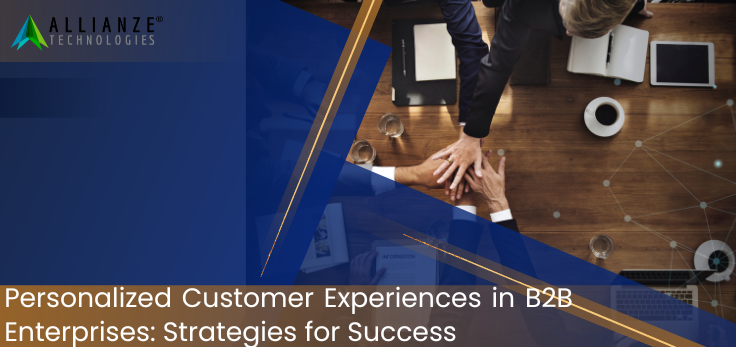 Definition of Personalized Customer Experience
In the world of brand wars and B2B enterprises, a personalized customer experience can be the coolest player on the team. Customer experience is the feels and chills you get when you surf through the services or product. This includes bringing life, art, and character to your service and product in a way where people feel valued and understood. It's vital to bring a touch of exclusivity into all levels of interaction channels.
Make no mistake; customer interaction relates to the customer's overall journey from surfing to a purchase. Personalized customer experience is next-level CX, adding a sparkle of tailored strategies and business-centric checkpoints for more conversion and healthy partnerships.
Personalization Strategies
Tailored content and messaging
Talking about tailored content and messaging, this is all about knowing your audience and setting the tone for the content. Let's start!
Know your audience: The first step, understand your customer! Study and understand your B2B customers from the inside out. Thus, you can frame communicational threads and elements for the content that strikes them. Deep study and analysis of their interests, goals, vulnerabilities, and challenges can help you set out the tone and content that truly resonates. It's just like having a home advantage for a soccer game final!
Personalize Your Content: Content delivery and attitude are relatable when it comes to communication. You can be two different people when you're at home and when you're in your project meeting. So, It's vital to make sure that the content sounds true and direct to the targeted business or receiver. So, Make sure that your solutions address their pain points and make them feel like you're the best choice.
Dynamic Email Campaigns: Make use of every data bit that can improve the personalization of your offerings and solutions. You can use market research and customer data to create personalized campaigns and dynamic email campaigns.
Test and Optimize: Curiosity is an important element of life that can work wonders and open doors of new opportunities. Thus, frequent testing and content optimization can drive the change or missing element that can improve the approach.
Customized Product recommendations
Product recommendations help businesses to create an urgency towards the service and offerings. Customer data helps business carve their recommendation strategies in an effective way. You can use many techniques to gain insights and interest from various sources, such as CRM, ERP software services, purchase records, buying patterns, and trends.
By implementing analytics into management with an ERP software service, businesses can create seamless and personalized customer experiences, ensuring that each interaction is tailored to meet the unique needs and preferences of their clients. In addition, you can implement intelligent algorithms that track customer data.
Recommendation engines and advanced algorithms can offer tailored solutions that align with customer requirements and expectations. Interactive product configurators allow businesses to measure the performance and reach of customers. Therefore, accurate recommendations and services best suit their needs. With an active and compelling interface, product recommendations can convert leads.
Communication channels
Surveys and feedback can give an idea about the communication channels that work out. While some businesses prefer emails, others may be comfortable with video conferences, chat-bots, or phone calls. So, an Omni-channel approach allows seamless experience across multiple communication channels. Thus, you can make use of channels such as email, social media, and phone systems by incorporating them into management software like CRM.
You can use automation tools and software as bait. Thus, your communication channels will be more effective based on the collective data. Chatbots and assistance help businesses to know customer needs by acting as a channel to resolve doubts, queries, and issues. In addition, social media platforms have the potential to attract B2B customers on a more personal level. Thus, social media platforms such as Instagram, Linkedin, and Twitter can be taken as effective communication channels.
Flexible pricing models
After customer targeting, you can frame pricing strategies that seem fair for the business requirements and value. Dynamic Pricing Strategies are an important factor due to the rising competition and startups. So, it's vital that you ensure your offerings and pricing are based on real-time factors such as market demands, customer behavior, region, and expertise.
By leveraging data analytics and research tools, businesses can frame pricing, timeframes, and needs. Enterprise resource planning provides a centralized platform that seamlessly integrates data and processes, enabling businesses to personalize interactions and pricing frames. Personalized pricing packages and offers help businesses to partner up. So, flexible offerings and packages can be sorted out and collaborated with the right business. Furthermore, these offerings not only strengthen business partnerships but also enhance customer loyalty and opportunities for more partnerships.
KPIs
Forging a personalized experience and measuring them is equally important to drive more leads. Key performance indicators are vital techniques to measure the gravity of personalized customer experience. Thus, It can define how much your strategy is working and ensure that the key metrics align with your business goals or not.
Advanced AI and ML algorithms can refine strategies that identify the right metrics, channels, and tools that can engage more customers in your business. Implementing Advanced learning algorithms with real-time business databases allows businesses to test and optimize campaigns. Enterprise Service Management (ESM) empowers businesses to enhance the custom user experience by efficiently managing and automating service requests, ensuring prompt and personalized support that caters to the unique needs and preferences of each user. Therefore, businesses can identify the right communication channels and areas that can be improved to deliver personalized feels and thrills.
Call to Action (CTA)
A compelling Call to action creates urgency and temptation for businesses to take action. They can grab the eyes of potential customers and create a personalized atmosphere with targeted content strategies. Furthermore, a compelling call to action can significantly improve stay time and the probability of turning into leads.
By tailoring the CTA to specific needs, pain points, and fair pricing offers, the right business can collaborate for an ideal partnership. These CTA can bring a personalized atmosphere that tempts businesses to explore further solutions and services you can offer. Moreover, they can be used as measurable metrics to measure the depth of your personalization strategy.
Bottomline
Personalized Experience and brand personality are vital differentiators for B2B business enterprises. By leveraging these simple strategies to form a business-centric approach, businesses can foster stronger relationships. When you prioritize personalization, businesses can foster solid partnerships and win customers' hearts. If you're looking for a new course that can drive sales, take action now and unlock the full potential of personalized customer experience with us. Do reach us via mail at [email protected] . We have the expertise of over a decade of expertise in providing comprehensive enterprise solutions that cater to the unique needs and challenges of businesses across various industries.