Enterprise development happens swiftly every year and the same is expected in the case of 2021. Well yes, 2020 has been a dreadful year for all, but for enterprise software developments, it was enchanting enough. Just as any other year it had trends that would continue the journey in 2021 as well with growth in it.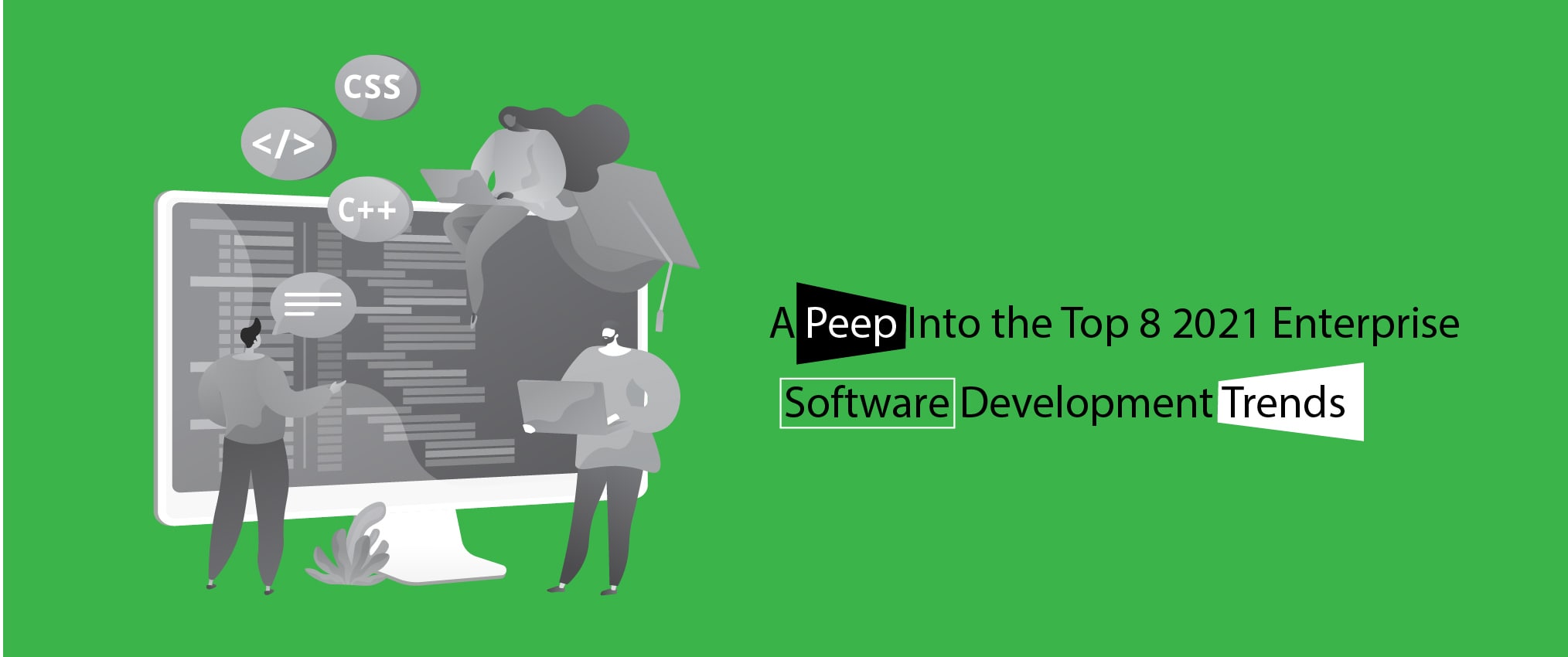 In the current scenario, digital transformation was well used. Most of the companies are urgently changing into work from home. To keep things right and keep a steady workflow, they will need software support that will diminish the complexities. And the year seems to have several trends in the way to handle this. 
Low-Code – No-Code Development 
Low code editors are the so-called drag and drop editors and simple enough for every on to become a developer. This lets even a layman with no experience in developing to build adaptable apps in no time. 
Well, we are about to see a no-coding era in 2021. 
No-code coding is about to be a big trend that would grow vast in 2021. Yes, the low-code development will be advancing to the no-coding and this will be helpful for beginners to build applications even without writing a line of code. Studies say the tread will be growing exponentially in the market by 2025. 
AI had an enviable growth in 2020 and it is said to continue the victorious journey in 2021 as well. With the capabilities of AI ( NLP, Machine Learning, and Deep Learning), it will be offering a much more customized experience to its users which would contour their operations, increase productivity, and more. Anyhow the most fascinating field AI helps should be Cybersecurity as it can spot threats faster. And the security offered by AI would be increased by 2021. Well, the industries are expecting much more from enterprise software development, in the form of AI tools.
Hopefully, the enterprise software developmenttrends are not going to omit the development of native and progressive apps. This is assured by the way businesses target smartphone users. The apps would give numerous advantages to eCommerce and the progressive apps are changing the way people access online content. If you are one of the emerging entrepreneurs, this might help you to set in the most bewitching trend of 2021. 
Big Data and IoT shift the world enormously. 2021 is going to be a big year for IoT as the use increases the healthcare and remote working industries. The wearable for checkups are about to launch and the clinical guidelines will be intensified with the arrival of 5G and smarter technologies. The manufacturers have already started to develop IoT-enabled products in the industry.
 Big data has been a powerful tool used for the right tapping and growth of the business. But the data security has been an issue. Big data in 2021 is going to take this into account. It will ensure that the businesses have access to only the data that users need at a point in time and eliminate the others and plethora. 
Businesses that require the above-said technologies can, hence, go on adopting them. These are about to sweep the shore hard this time. Also, these upcoming treads would make you go with the flow and keep you updated. 
Allianze Technologies is a well-known enterprise software development company. We offer custom enterprise software development services among our web development services. We would help you to add up any upcoming trends in your firm, and it would be cost-efficient than the service offered by others. If you feel interested, talk with us at [email protected].