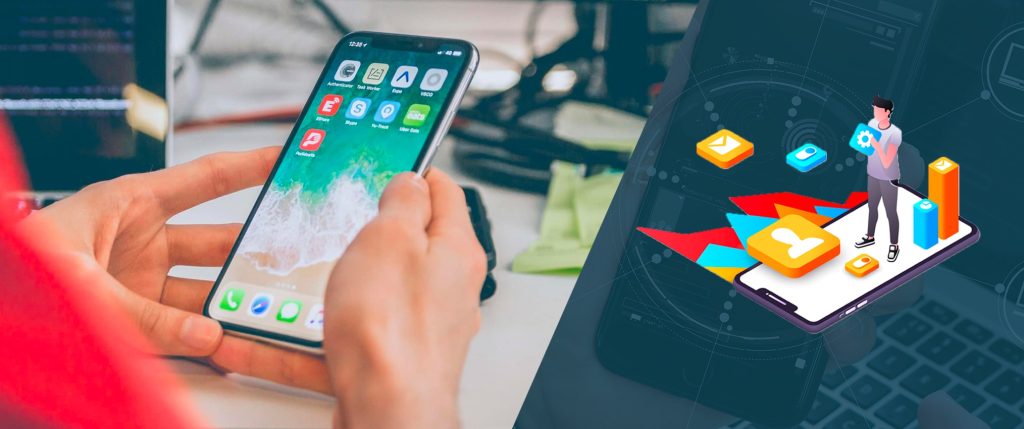 Mobile app development service is no longer a luxury but a necessity, especially if you want to make it big. A mobile application can help you reach the pinnacle of success in no time. Mobile app development involves multiple steps.
User-friendly mobile app designis vital because it will provide easy navigation to the users. They support the user to accomplish their goals quickly, in a precise and productive way. They help you save time, money, and resources and avoid frustration.
There is a huge demand for mobile apps in the market, with no signs of slowing down. Even a few years back, there was a limited number of mobile users and plenty of opportunities to move into the mobile app space. But now everything has changed. The popularity of smartphones has increased, and more than half of the world population uses mobile phones. More than 3 million apps are available in the Google Play Store and the Apple App Store together.
Mobile apps have become an essential part of our lives and are changing how we interact and do things on-the-go. These days, people spend most of their time on mobile phones in using different apps. So, if you want your business to stay ahead of your competitors, you need to develop a user-friendly mobile app that can be used by anyone anywhere.
Importance of Hiring Mobile App Development Company
Businesses need to have their own mobile apps to reach their potential customers easily and provide them the desired services. There are many companies who develop mobile apps for different platforms. However, it is essential to choose the right company which can deliver you a quality product within your budget.
Usually, most businesses lack a team of technical talent and required skill set. Due to these shortcomings, they tend to hire a mobile app development company. Moreover, they do not have enough time to invest in an app development project. This is majorly because they have other crucial tasks, requiring immediate attention.
If you also have similar requirements, then you should approach a reputed mobile app development company. They will analyze your project requirements and then suggest you the best solution for your project. You should hire a professional company which has experienced developers who will work on your project from scratch.
Hiring a mobile app development company will offer you with following benefits.
Excellent mobile app design
Helps to reach more customers
Improves brand recognition
Builds sales and brand loyalty
Enhances business exposure
Promotes easy use and navigation
Coming to the major discussion, "How to Develop a User-Friendly Mobile App"?
Identify Target Audience
The first step in creating a user friendly mobile app is identifying your target audience. Why is this important? Well, it helps you create an app that will meet their needs. For example, if your target audience is iOS users, then your app should be for iOS devices. If your target audience are android users, then you will want to develop an android app. Target audiences and their needs change from time to time so it's important to reevaluate them every now and then. You can use Google Analytics or other tools to identify their needs and interests. This will help you to create a better version of the application for them in the future.
Analyzing Competitors
It's pointless to reinvent the wheel. Before starting the mobile app development process, it's important to see what the competitor is doing. Competitor analysis is important because it determine your app's key features. You will want to make sure that when you enter the market, you are able to compete with what's already out there. You can learn a lot from them by checking their user reviews, as well as their UI/UX design approach, features, etc. This way, you will be able to avoid making common mistakes and improve your mobile app development idea.
Simple Mobile App Design
Simple mobile app design helps in an effective flow of information and enables better navigation. As a result, users find it easier to interact with the app and access their required information quickly and easily. App design is a critical component of the app development process. It's what transforms an idea into an interface that users can interact with. A simple app design requires less time, effort, and money. Your mobile app design should be user-centric so it meets their needs and makes them want to keep using it.
Building a Simple Interface
Creating a simple interface is an important step in mobile app development. Simple interfaces have more advantages than complex interfaces because they are easy to use and understand. The main rule of user-friendly design is simplicity. Users should intuitively understand the logic of your application, without spending time studying it. A simple interface does not distract from the main task and helps the user to focus on it. This is especially true for games, when the player needs to concentrate on winning. When developing a mobile app, remember that simple interfaces have:
Fewer buttons, features and tabs
Simple and clear navigation
Easy-to-read text
Good contrast and visual hierarchy
Testing on Real Users
User testing is an important step in mobile app development. This is a time when you can learn about your app from the users' perspective. It is a time for you to see if all that time and work has paid off. User testing allows you to get valuable feedback from your target audience that may have a huge impact on the success of your application. Before launching your application, it's important to test it on real users. You want to know if your app solves their problem and if they actually like it enough to use it again. A negative user testing experience could prevent your app from ever getting mass adoption.
Allianze Technologies is not just any company that creates mobile apps. We also have a long history in the digital world and we have worked with important clients creating applications for different sectors such as: fashion, finance or sports. In addition, we always use the latest technologies so that our clients can be at the forefront of innovation. Allianze Technologies is one of the best mobile app development company worldwide.
If you want us to create a mobile app for you, do not hesitate to contact us and tell us what your favorite idea is, we will take care of everything else. Reach us at [email protected]