So how do you ensure that your ecommerce business has a fighting chance in the sea of online competition? Easy, you kick your digital marketing into second gear and push your SEO strategy to deliver more leads and sales!
Make a plan for your eCommerce web service. Then follow it. Are you working on content creation, social media marketing, SEO, PPC and more? Are you managing your customers' experience from start to finish or are you building a site that occasionally reminds them to check out your products? eCommerce marketing is more than just creating a Facebook page and sharing some posts with pretty pictures. If you want to increase your sales and traffic, you need to be working on adigital marketing strategy.
Hiring a Website Development Company
There are many ways to energize eCommerce business. You can boost productivity by hiring awebsite development companybecause it increases your profit margins. If you are interested in long lasting relationship, the best way is to hire a professional website development company.
Website design companies provide the services of designing and developing websites that work with the latest web technologies. The companies provide excellent quality solutions at affordable price. The web designing companies offer solutions like eCommerce development, Content Management Systems (CMS), Flash, search engine optimization (SEO), business portals, etc. Many of them offer quality service combined with reasonable pricing. The companies also promise to deliver 100% satisfaction to their clients.
Importance of Website in Energizing eCommerce Business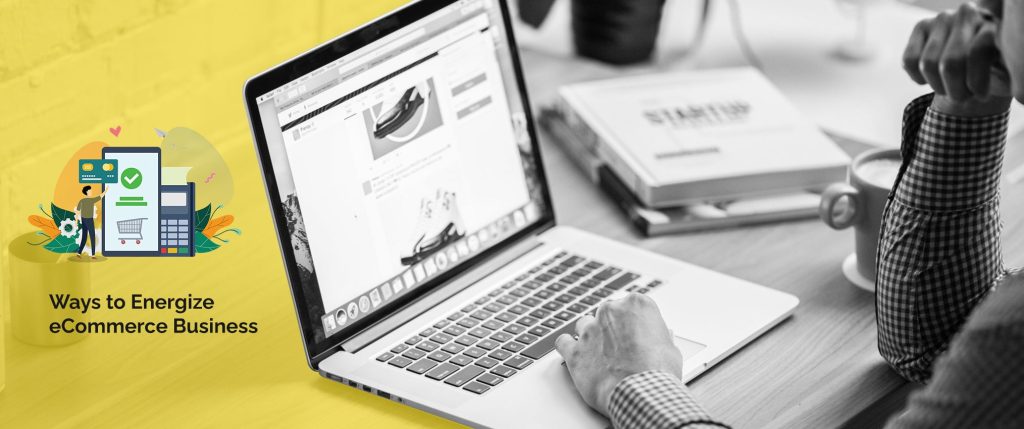 If you are starting an e-commerce business, the website of your business is one of the most important aspects. A well designed and developed website will help in increasing the visibility of your products and services in the market. One can design a website for their e-business with the help of various available tools and templates.
These days, there are many ways to develop a website but hiring a professional web development company is one of the best ways to do so. The company should have enough experience in developing websites for businesses like yours and be able to provide all the necessary tools for web development.
The website should be easy to navigate for users and should provide the much needed information about your products and services to the customers. In addition, it should also provide them with an option to buy your products or avail your services online without any hassles.
How to Energize Your eCommerce Business?
Publishing Blogs
Telling an interesting story is a powerful way to sell your products and services, build brand awareness, and even drive traffic to your site. People love interesting stories, so it's no wonder that storytelling has been such an effective sales technique for years. If you are looking for ways to market your products or services online and want to stand out from the crowd, then there's no better place to start than by telling an engaging story about what you do. Newsletters are another popular way to share content with customers. Because email newsletters have a planned publishing schedule, you'll have time to create content well in advance of it going live.
Using Social Media
Social media is emerging as the most popular platform for growing an eCommerce web service. The main reason why people use social media is to share information. This is what makes it such a great tool for e-commerce business owners. When you post about your store on Facebook, Twitter or other platforms, you're creating an opportunity for new customers to see your products and get excited about making a purchase. Post more frequently, including content that is relevant to your business in addition to "fluff" topics. The more engaging content you post, the more attention you'll receive.
Email Marketing
Email marketing is still one of the most effective ways to grow a business and increase sales. It should be part of every ecommerce business owner's strategy. Email marketing is not about forcing people to buy, but about educating them and then making it easy for them to take action. Content has to be relevant, quick and easy to digest. That's why email marketing is so powerful – it's more than just another advertising channel. It's about building relationships with your customers and helping them solve the problems they face on a daily basis.
Offer attractive discounts and promotions to your customers via email.
Send postcards that promote upcoming sales or special deals.
Update your customers with new offers and events in your eCommerce store.
Offer valuable tips and advice for customers who stay up-to-date with new trends and products in your industry.
Personalizing Customer Experience
E-commerce is a great channel to sell your product, reaching thousands of customers. But in order to make a sale, you must also provide the best customer experience. E-commerce business owners can take some steps to personalize the shopping experience and create more satisfying customer relationships. A great way to engage your site visitors is by using personality in your messaging. When customers see that you have a friendly and inviting personality, they will be more likely to feel comfortable shopping on your site.
When it comes to e-commerce, people are looking for convenience and speed. The goal is to make the customer's life easier so they want to come back again and again. Give them a reason to return by making sure your checkout process is as easy as possible and by giving them options that fit their needs.
Final Thoughts…
The eCommerce business has had a great boom in the past few years. With the help of the right partner like Allianze Technologies, you can be sure of a smooth and swift implementation, ensuring your project is on the right track.
Being the best website development company, Allianze Technologies uses the right combination of app, software and accessories to deliver your customer's needs. Contact us today at [email protected]