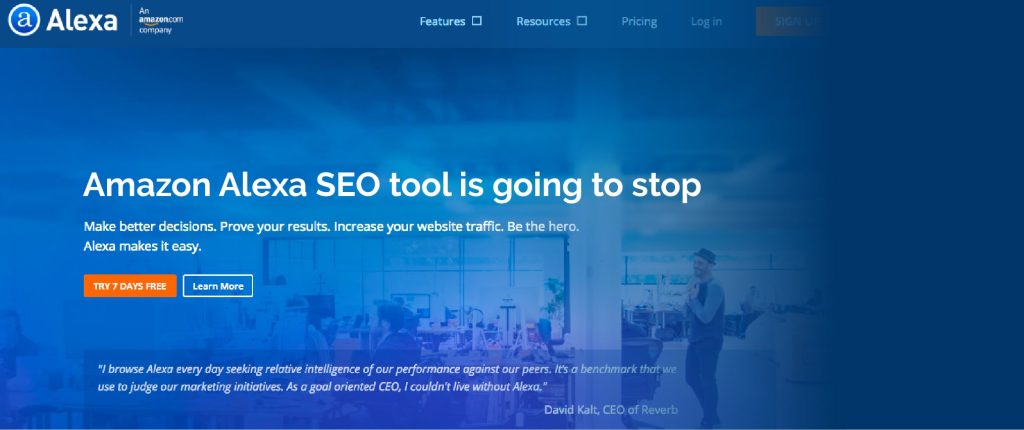 The time for Alexa, the web ranking service of Amazon, has finally come to an end. The retirement announcement of Alexa.com has come after successfully serving the digital marketing industry for a long 25 years. Launched in 1996, Alexa assisted digital marketing with traffic measurement using a toolbar and later expanded its services to site auditing and backlink checking.
For Webmasters in the 2005-210 era, the news became heartbreaking since checking Alexa ranking was a part of their routine. They helped to find, reach, and convert digital audiences and made the difficult decision to retire on May 1, 2022, as per the official announcement that appeared on a support page. Here, the digital world is curious to remember what was Alexa and how it influenced the market. Also, we must know what made it retire and what the retirement decision tells the world.
What Was Alexa Tool Used?
As we have seen, Alexa Rank was effective for measuring site popularity. Alexa rank reflects the site's estimated traffic and visitor engagement over a specific period- like one or three months. These engagements get measured from the details of the browsing behavior of consumers. Greater the rank means greater the KPI (Key Performance Indicator), and it stood as an effective tool for competitive analysis for decades.
Alexa provided a large variety of search marketing and analytic programs too. Facilities like backlink checkers were one popular among them. The information it provided ere extensively helpful too. They could offer services like showing which backlinks competitors have in common, including as many as ten competitors at a time. Their 149 dollars monthly subscription plan included services like content exploration, topic research, competitive content analysis, keyword difficulty tool, on-page SEO checker, audience analysis, competitor keyword matrix, and many others.
What Makes It Shut Down Then?
Actually, the Amazon company does not give clear information about why it is shutting down Alexa Internet, but reports suggest a few things about the reason for its retirement decision. We will try to explain it with an example. Even in this time, companies using Alexa internet ranking to monitor website traffic and offer affiliate programs try to determine the popularity of potential affiliate partners. Here, the rankings they create may not get accepted by the affiliates whose websites do not reach a minimum Alexa Rank popularity threshold. More precisely,
Studies of the traffic and marketing analytics firm Semrush indicate that the traffic of Alexa Internet has shown a constant decline over the past years.
Alexa Internet's Facebook and Twitter accounts have not to get updated for a while. It indicates the possible retirement decisions that may come in the future.
There were suspicions on the possible malpractices on improving Alexa Rank score because some people claimed that visiting their own site can improve the Alexa score drastically.
Also, there were criticisms that the data provided by Alexa Ranking was more favorable or relevant for Asian countries than for English-speaking nations like the United States, the U.K, Canada, Australia, and New Zealand.
As a whole, Alexa Internet failed to meet the increasing requirements of the modern digital world and failed to get updated in time.
Amazon will allow the consumers to export their data before the shutdown and delete their account in Alexa.com. The eCommerce store has already stopped accepting new subscriptions for its paid tier. It allows the current subscribers to continue with their account till May 1st, 2022. At the same time, Bleeping Computer reports that the service's API (Application Programming Interface) will shut down only in December 2022.
What does it tell Us?
The digital marketing industry is dynamic, and it requires getting updated each second to stay relevant. Closing down an old tool and entering new ones into the market are common in this increasingly competitive digital world. In fact, it is the beauty of the digital industry. You must be ready to learn new things and must evolve yourselves into more efficient variations. At the same time, confusion has arisen that the Alexa voice assistant is getting shut down. The voice assistant is a popular voice searching tool provided by Amazon, and its popularity is on a hike. But there is no need to panic. The voice assistant will still serve consumers with new updates., and it's time to say goodbye to Alexa.com, a marketing assistant that served us for a long period and enforced our marketing desires after finishing its 25th anniversary in the industry.