Technological breakthroughs are renovating industrial sectors with cutting-edge business models and startups. Traditional off-the-shelf software development solutions are outdated and simply lack the potential to meet the needs of modern businesses. Automated software and applications are phasing out antiquated business models and software each day. It is indispensable to keep pace with and incorporate the latest business trends around you.
Custom software solutions fashion software applications that are more customer-centric and precise for business purposes. Having customized software allow businesses to scale up and adapt to the changing market. In this blog, we are going to delve into some business perks of choosing custom software development.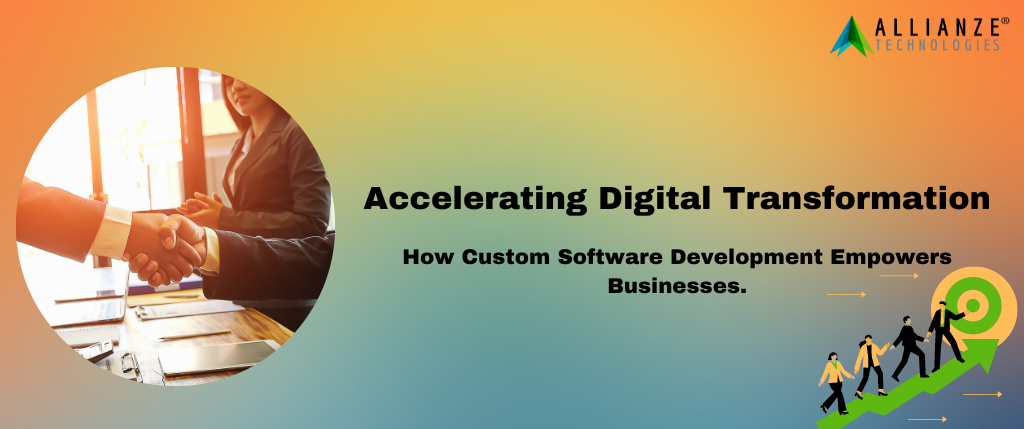 Scalability
Custom software development solutions help businesses to scale up without outgrowing the active software. We can easily modify and expand custom software according to your business requirements. Custom software development empowers company operations and tasks as they enable seamless adaptation, customization, and demands within a short time according to the changing market dynamics.
Unlike off-the-shelf software solutions, they are far easier to integrate with the existing systems. So, when you're scaling up your business it's easy to capitalize on emerging changes with the demands. Custom software are easy to modify and update in scenarios such as a new product launch, service, or a new division. So, for businesses that require scalability, custom software is the best bet you can go for in terms of reliability, efficiency, and performance as well!
Trim budget
Well-designed custom software allows businesses to find and save expenses. Custom software are crafted with unique features and capabilities only for your business paradigm. Purchasing prepackaged software or off-shelf solutions can drain your money on features your company uses very often or rarely. You're paying for a whole lot of things that don't benefit you in any sense at all.
Custom software gives businesses a competitive edge by improving efficiency in business automation saving you overtime and labor costs. Moreover, custom software businesses only have to pay for the particular features that are useful for the company. Tailored software are designed in a way that business doesn't have to spend too much money on tech support, maintenance, and regular updates. They can adapt and scale with the business events without costly upgrades and replacements.
Security provisions
Data protection is one of the prime reasons why businesses go for custom app development solutions. Custom development software ensure a high level of privacy and security concerns compared to off-the-shelf solutions. Custom software development ensures encryption and security of data by implementing robust security measures from the very beginning of coding itself. Moreover, tailored business software undergoes rigorous testing and security audits to ensure that the software is secure from cyber threats.
Custom solutions are specially designed for businesses to their needs and demands so security features such as user authentication, data encryption, restrictive access, etc can be integrated accordingly. Customized development complies with business policies and regulatory standards such as GDPR, PCI-DSS, HIPAA, etc.
Foster collaboration
An effective CRM and integration can define the functionality of an organization at first glance. Ensuring Seamless connection and collaboration is the sole purpose of in-house systems such as CRMS and ERPS. Custom software improve the functionality and chemistry of the existing systems and departments just like you want it. Moreover, customized software can significantly boost collaboration by streamlining operations more accurately.
Businesses can streamline and record their tasks accurately with tailored software designed to integrate seamlessly with the existing systems. They can bring customized features and updates that are missing out from off-the-shelf solutions. By bringing these unique features and qualities with tailored software, businesses get a competitive edge and integrate with customers, suppliers, departments, etc. Moreover, they can make decisions accurately and collaborate on files directly without wasting money and time.
More customer-driven approach
Custom software development provides tailored solutions that carry out business operations by unlocking fresh efficiencies. These customized designs can optimize both in-house tasks and outsourcing tasks under the preferred boundaries. off the shelf software is so artificial and simply outdated, they have limitations and therefore lacks efficiency. Developing custom software specially designed for your business culture empowers businesses to adapt and scale up. Custom solutions can sort out areas and develop features to keep customers entertained. Moreover, they can give users a personalized experience instead of ordinary business marketing patterns. Designing custom software with unique features that fit your business needs has the potential to pull off customers. In a nutshell, crafting software solutions prioritizing individual behavior can gain you a leg up with competitors and win the hearts of customers.
Conclusion
By harnessing the power of customized software and successful integration, businesses can optimize their operations. Crafting custom software help companies to enhance productivity by streamlining business tasks accurately. Custom software allows significant cost-saving with top-notch software tailored to your needs and demands. If you're looking for a major change to scale up your business, our software techies can fashion the right software for your business!
Our expert software developers can fashion you the right software solutions that fits your business. We have a successful track record of delivering optimized software and applications for over a decade. Our company specializes in agile software development and can deliver customized business solutions tailored to your specific needs and demands. Drop us a line via mail at [email protected] to kick off the project!