The global COVID-19 pandemic spiked the requirement for on demand apps. There are two extremes of the pandemic's impact on various businesses and industries – while some face huge losses and downfalls due to the declining global economy, the other thrives with major revenue gains and profits unlike never, through mobile or software app development.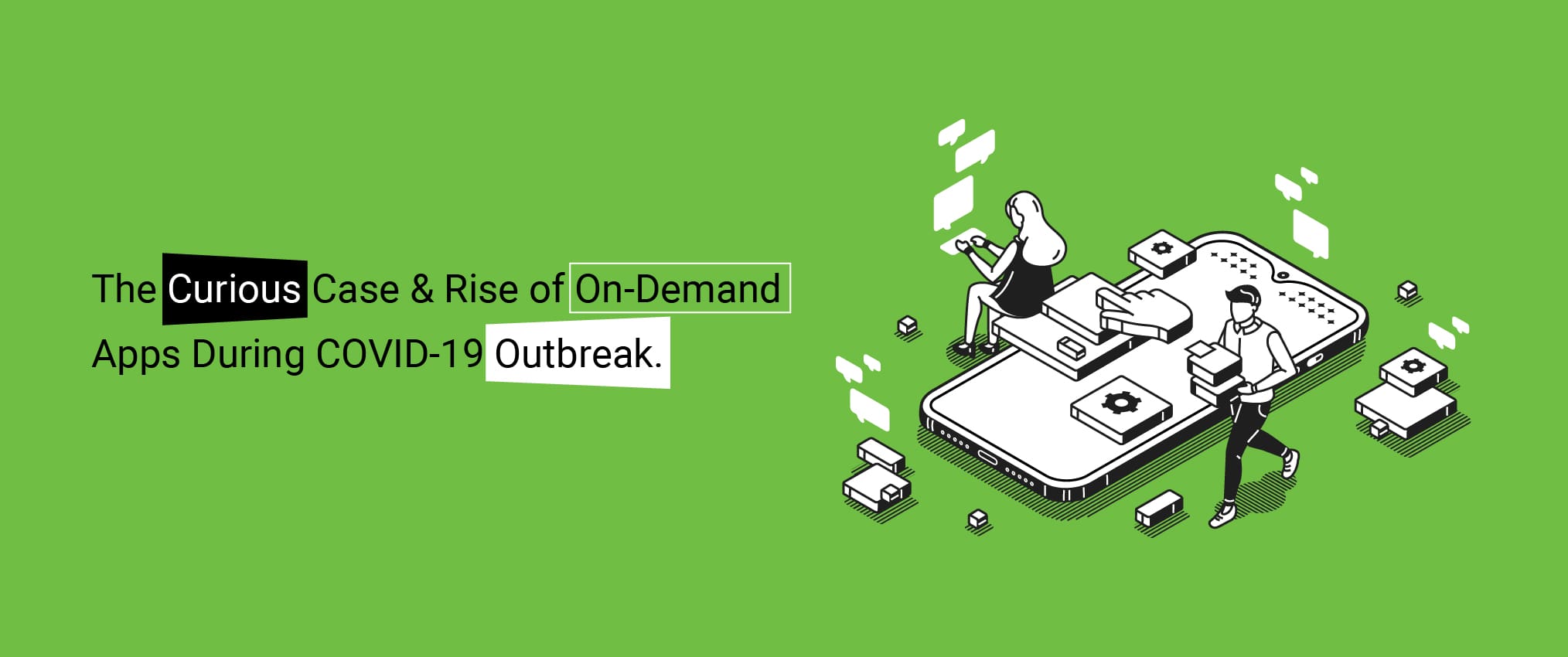 Even though people can't go out of their homes due to the pandemic restrictions, there is a steady climb in the demand for various goods and services. And these days, it became possible with every mobile app development company's mobility solution that delivers such offerings to customers or users, uninterruptedly. 
Almost any services/products can be accessed by users across the business world in real-time within the apps and get their requirements delivered at their doorsteps. Food delivery, laundry, grocery services, online banking, etc. are a few of the functionalities availed by them through the apps, and the list is virtually endless.
The convenience is highly favorable to consumers despite a full-fledged novel coronavirus pandemic. This is because of the app's comprehensive aspects that can track orders, create wish lists, choose preferred payment options, book multiple offerings, provide reviews, and more that has been helping customers/users by a long shot. 
What gave rise to On Demand Apps?
Pandemic Restrictions
As per Government instructions, during COVID-19 social distancing and lockdowns are always in effect for tackling the deadly virus spread. This confined people to their homes and an alternative to maintaining services to meet their requirements, mobile app development came to full swing. To combat their new lifestyle these apps have been helping them to get things they need.
Contactless Payment and Delivery Options
Every mobile app development company specializing in this type of apps integrates various payment/methods within the same, for users to make effortless virtual payments. Hence contactless payments are made without physical money exchange or ATM visits. Deliveries are also contactless as delivery staff safely drops orders at consumer doorsteps.
Rapid Service Times
The reason why these apps have a huge customer base is that the services offered through them are very quick, serving almost all necessities of people. And mobile and software app development companies pack highly convenient features within the app for users to cautiously tread within the COVID-19 pandemic.
Benefits of the App to Users
Various Delivery Modes
Apart from the contactless delivery methods, aerial drones are also used to deliver orders in areas with extreme restrictions that come with cost-beneficial offers as well.
Customer Tailored Services
These apps leverage AI tech and other intelligent ones to offer personalized solutions to users with its meticulous customer behavior learning systems. Hence it can effectively meet new customer demands with in-app customer behavior. 
Local Business Collaboration
The apps collaborate with local businesses to help supply customers with their exact requirements or demands. 
Benefits of On Demand Apps to Businesses
Better ROIs as user dependence on app is very high 

Helps in understanding demographics better to offer personalized solutions to users from the in-app data obtained 

Collaboration with local businesses resulting in more profits, even to all involved parties 

Increases customer base and loyalty due to enhanced customer experience and satisfaction offered 

Helps in meeting customer demands, all the time 
In short...
The need for on demand apps is increasing and every mobile app development company is fully into the filed to fight the pandemic along with the users. It has been highly helpful and profitable to both users, mobile, and software app development firms alike. It will continue to rise towards the future as well.