Hi Reader!
Before you start to read this blog, please answer the following questions
If your responses for the above questions is "Yes" then, this is blog is for you.
Go ahead and Enjoy Reading!
Table of Contents
About CMS
Benefits of Using CMS for Website Development
Popular CMS Platforms
Steps to Add CMS to Your Website
What is CMS?
A CMS that stands for Content Management System is a software application that empowers users to develop, organize and publish content on a website. Whether it is image, text or video CMS facilitates for the easy management of website content. With CMS, Individuals can handle website content efficiently without any prior technical knowledge.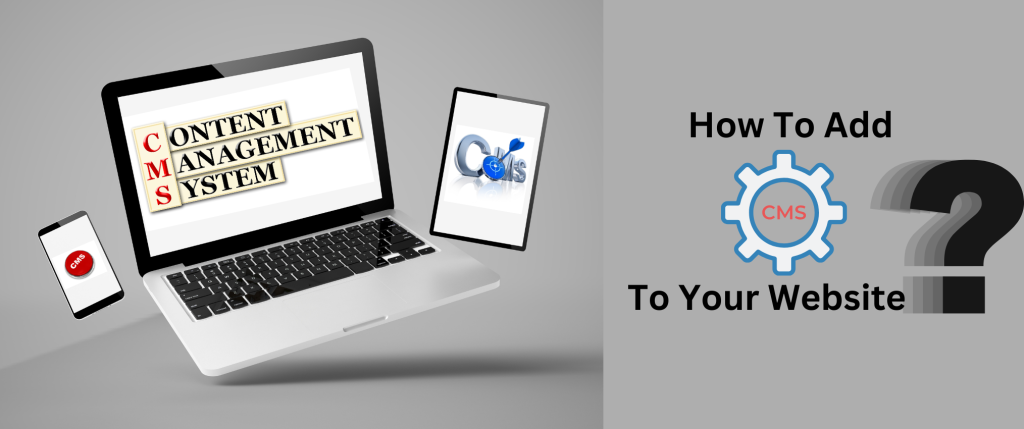 Benefits of Using CMS for Website Development
Firstly, Efficient Workflow: CMS is a platform that offers an opportunity for collaborative work. That is, multiple users can work at the same time.
Secondly, Customization: CMS has the feature of customization. With this feature, website owners can develop a unique digital presence that helps them to stay ahead of their competitors. CMS provides a toolbox that contain visual layouts, color schemes and typography and website owners can craft a website that matches with their brand. These websites will not be visually appeals but also will top in functionality.
Thirdly, Version Control: It is significant feature within the CMS platform, that allows creators to view the history of content changes. This feature allows the creators when the changes was made and who made it.
Fourthly, Structure and Organization: This platform offers a handful of tools that can be used for the systematic categorization and organization of content. By structuring content in this manner, users can find the required content much easily. Furthermore, with this kind of content organization you can offer a top user experience and can retain your visitors.
Fifthly, Responsive Design: It is an attractive feature that ensures the website is user-friendly in all devices. As CMS focus on responsive designs, it will have a great impact on SEO, User Experience and Cost-Effectiveness.
Sixthly, SEO: Search Engines like Google always promote websites that are user-friendly. So by creating website on CMS platform you can ensure a top position in Google ranking.
Seventhly, User Experience: As there will be a rise a user experience, you can reduce bounce rates and boost user engagement.
Eighthly, Cost Effectiveness: Maintaining a website that is both mobile friendly and desktop friendly is much cost effective than creating a separate version for both.
Ninthly, SEO Optimization: CMS has some built-in SEO tools that helps the website creators to optimize their content effectively. CMS makes its optimization in multiple elements lie meta tags, titles, URL structure and sitemaps, and improves the visibility of website. Furthermore, you can attract more visitors, achieve top SEO rankings and reach a large section of audience with this.
Tenthly, Security: CMS emphasize on security aspects of websites. That is, it releases security features frequently and make the website protected from unexpected threats. Some of the extensions that are include in CMS platform are firewall protection, login attempt monitoring and malware scanning.
Eleventhly, Time Savings: The user friendly interface and tools helps website owners to publish content and maintain the website in a minimal time. In detail, website creators can add, edit or organize the content without any technical knowledge and that too in a less time.
Finally, Community Support: This is one of the hallmark feature offered by CMS platforms. This allows the users to involve in discussions, assistance in troubleshooting and send resources. Let us take an example of WordPress. A website creator that works on WordPress website faces an issue, then he can seek assistance from WordPress.org to fix the issue efficiently.
Popular CMS Platforms
WordPress: This is a platform that tops with its quality of user-friendly interface and versatility. It provides a wide arena of themes and plugins for its users.
Magento: Magento is one of the best choice for e-commerce websites. It has features that makes online stores powerful. But its little complex when we compare this with other platforms.
Wix: Wix is another platform that can make user-friendly websites. It is an excellent choice for artists, small businesses and personal blog writers.
Shopify: Shopify is suitable platform for ecommerce. It provides easy payment options and other attractive feature that attracts the users to buy a product from the store.
Squarespace: Squarespace is platform that offers attractive templates and user-friendly interface for creating powerful websites. It offers top customer support via email, community forums and chat.
Joomla!: Joomla is platform that offers many robust features. It has many tools that helps in content management, customization and user management. Joomla is a great choice for organizations and e-commerce websites.
HubSpot CMS: HubSpot CMS is a unique platform that offer an array of marketing tools and user-friendly-interface. It simplifies the process of content creation, publication and marketing with its extensive tools. This platform is chosen by businesses that looks for a comprehensive solution on content management and digital marketing.
Ghost: Ghost is a platform that is specially created for online publishers and bloggers. It has minimalist interface and offers quick performance. Its simple design makes it a popular choice among bloggers. Furthermore, it offers many features like
Blog Drafting
Content Management
Scheduling
Multi-Author Support
For online publishers.
Typo3: Typo3 is strong open-source CMS platform. Large organization and MNCs choose this platform as it has many enterprise-grade features. Furthermore, the platform has secure features which makes it a solid platform.
CMS Integration in Website
Select a CMS: Choose a CMS platform that matches with your needs. Furthermore, before selecting the CMS platform make sure that
It is easy to use
It has many features
It offers enough support and community resources
Domain and Hosting Provider: Select a domain name and hosting service for your website. There are even CMS platforms that offer integrated hosting options.
Install CMS: Now you can install CMS by strictly following the instructions.
Template or Theme: Choose template or theme that aligns with the functionality and design of your website.
Customize the Design: Even if you have chosen a template for your website, you can make it unique by selecting colors, fonts and layouts that matches your brand.
Add Content: Now you can add content with the help of CMS's content editor tool. In this phase you can develop pages, create blogs and insert images and multimedia.
SEO Settings: You can optimize your website by utilizing the in-built SEO settings in the CMS platform. This includes optimizing content, images, meta tags and many more.
Install Plugins/Extensions: You may expand the functionality of your website by adding relevant plugins and extensions. You can expect more visits and conversion rates for your website, if you can make it feature-rich.
Security Measures: include enough security measures like frequent updates, strong passwords and many more to protect your website from malicious attacks.
User Management: In this phase, you can decide and fix who can edit, publish and manage the contents in your website. This keeps your website safe from unauthorized access.
Testing: Check the performance of your website and ensure that everything works as you intended.
Backups and Recovery: This is a significant phase in website development. Data is the asset of every business. If the content loses due to any reasons, it may affect the smooth functioning of your business. So, you can protect your website content, by including measures for data backups.
Launch: Now you make it accessible to all, by launching your website.
Updates and Maintenance: Keep your themes, plugins, CMS updated on a regular basis.
User Training: Train your website management team with skills that they needed for using CMS.
By adhering to these steps, you can integrate CMS to your website.
Final Thoughts
Using Content Management System, you can organize and manage your content efficiently. And, If you can find a CMS that perfectly suits your business you can attract your potential customers and generate conversion rates.
Allianze Technologies is a leading CMS web development company that focusses on outsourcing web development. Harnessing the power of CMS platform, our web developers provides top web solutions. So if you want to get our web development service, share your requirements to [email protected]