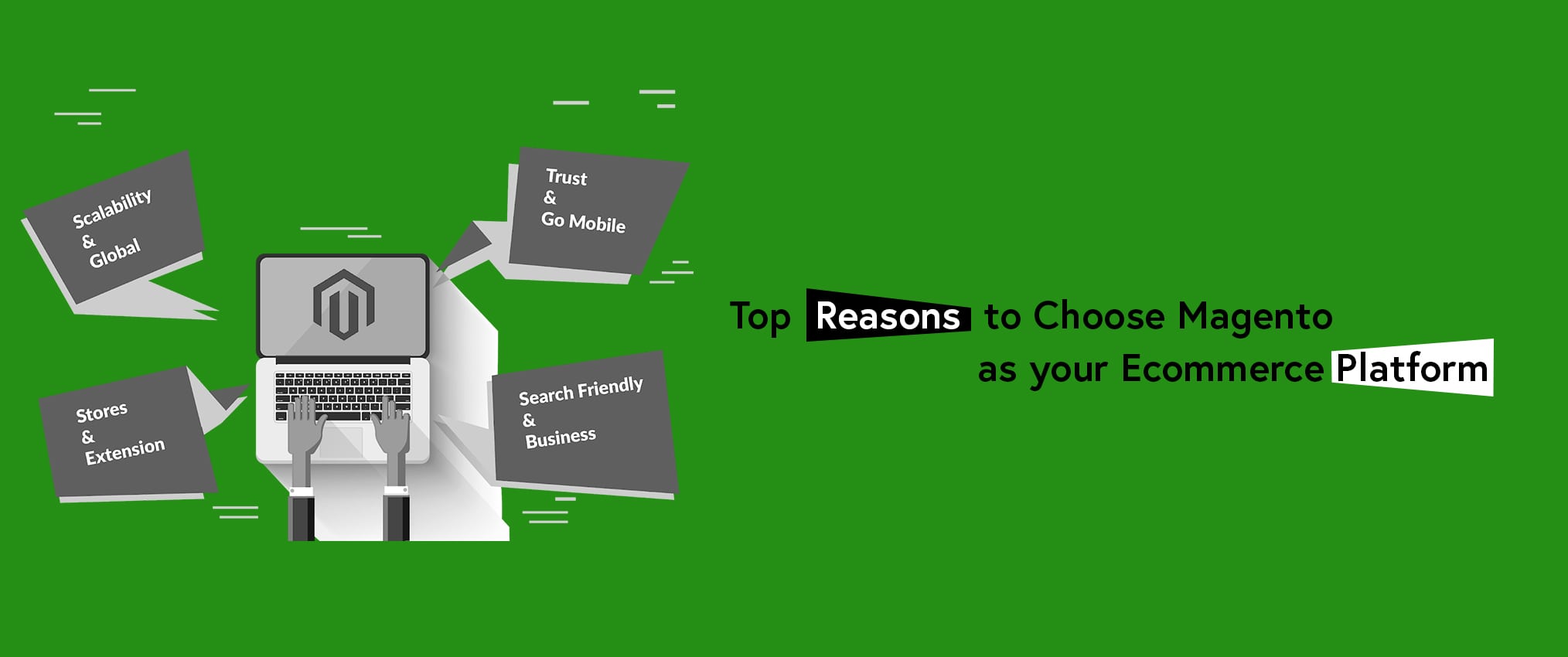 Magento is ranked as one of the popular ecommerce web platforms and is often the first choice for the growing eCommerce firms. Joining your hands and thoughts with the best CMS development company will enable you to extract a wide range of benefits via Magento CMS development.
The eCommerce sector is growing rapidly and is contributing to the successful transformation of the global market. Owing to such changes, there has been a tremendous growth of the custom eCommerce web development companies worldwide. Magento eCommerce web development service works for all kinds of business firms, regardless of their nature and size.
To make your eCommerce business sustain the thrust of online competition, collaborating with a Magento website development company can be a smart move. Magento CMS development offers a complete solution that would take your eCommerce business forward. Usually, the Magento eCommerce web development services include strategy formation, implementation, integration, designing, migration, update, and maintenance.
Building just a website isn't sufficient, rather, it should also perform quickly. Magento CMS development process can enhance customer loyalty, drive up profit margins, and boost the customer experience. All you need is the assistance of the best CMS development company!
Open Source – Magento is an open-source eCommerce platform and hence, it can be used by anyone who acquires enough knowledge about the same. Magento can be installed easily and with the right guidance by a CMS development company, you can boost the performance of your Magento eCommerce store. With the integration of Magento modules, this platform will enhance the features and functionalities of your store. Magento CMS development is available in two editions, one is Magento Enterprise Edition, and the other is Magento Community Edition. With the Magento development service, the eCommerce store can be altered as per the need of clients.
Quick Checkout – Magento eCommerce platform holds an instant purchase functionality that would help the customers to make a quick checkout (after they have purchased from your online store). The customers don't have to waste their precious time entering a name, address, or contact information. Magento website development will take care of all these processes. Implementing such a quick checkout procedure enhances the purchase and boosts the possibilities for making the sale secure.
Enhanced Customization – Custom eCommerce web development service is the dream for many online store owners. Magento offers flexible, customize, and scalable website development solutions, aimed at enhancing your eCommerce branding experience. With the unique functionalities, Magento will help your business in adapting to the changes easily and meet the end needs of the eCommerce store. You can also personalize the products based on the location and preference of the customers, and thereby, all credits go to the bag of Magento eCommerce. The apt search and filter options will help the customers to locate the product quickly.
Omni-Channel Experience – Are you aware of the fact that Magento CMS development offers an Omni-channel experience? It can be successfully integrated with various marketplaces including Amazon, eBay, and much more. Having an Omni-channel experience will help your business to get exposure across the market and bring in countless credible customers. Hiring a custom eCommerce web development company will facilitate your organization to seamlessly migrate from Magento 1 to Magento 2.
SEO Optimization – Magento eCommerce web development favors the concept and practice of SEO optimization. The rich SEO features will give you the freedom to extract the benefits from meta tags, URLs, keywords, sitemaps, and so on. As you know, Magento acquires the in-built SEO features that enhance the optimization process. This will help your website to obtain a top rank on the various search engines.
Cross-Browser Compatibility – Magento eCommerce development offers cross-browser compatibility and hence, your website can be easily accessible on multiple browsers. This feature will prevent the limitation on usage. This advancement will help your eCommerce website to achieve a top ranking, while the users search for a product.
Magento Community – The Magento eCommerce website owners enjoy a unique position in the market, especially amid the competitors, majorly due to the Magento community. The overall powerful Magento community consists of product and project managers, bloggers, developers, dedicated programmers, and much more. The responsibility of the Magento community is to make sure that everyone lands on the same page. If you face any defect of a feature, you can easily rely on the Magento community as they will help you with the issue fixing. Magento is a safe platform and it can be highly beneficial for building your eCommerce store.
Payment Integration – Magento simplifies the process of integrating SSL security and a dedicated IP. This will enable your customers or visitors to make a safe and secure online purchase. The Magento eCommerce platform will help the users to enjoy multiple payment options. It is a common fact that different customers use varied modes of payment checkout. Hence, integrating various payment choices can provide the customers with the best shopping experience. Such a feature will encourage all sorts of transactions smoothly and safely from different parts of the world.
Secure Authorization and Multiple Extensions – The Magento eCommerce platform has been designed to promote the security of the customer's data. Also, the Magento features will protect the business data and ensure a secure authorization. The eCommerce websites built on Magento are free from all kinds of threats and will avoid any kind of data infringements. Though Magento has countless impeccable features and dedicated developers, it also offers various extended plugins, also often known as modules. These plugins will help the eCommerce website owners to customize the platform and provide a hassle-free shopping experience. This will encourage the customers to keep visiting your store again and again.
Advanced Reporting and Easy Navigation – The Magento eCommerce platform have an excellent built-in reporting system that can enhance the monitoring of various business operations. You can easily keep a track of product popularity, its purchase, customer activities, and satisfaction level. The data obtained through these monitoring processes can help you to develop significant decisions. Magento enables quick, easy, and multi-layer options for navigation. It will boost the scope for achieving customer satisfaction. If customers can search for a product in an effortless and hassle-free manner, this could be the best success that your eCommerce store could achieve.
Briefly described, a few other notable benefits of choosing Magento eCommerce platform.
Scalable solutions
Multiple themes in Magento
Single back-end with various Storefronts
Flexible framework
Excellent mobile experience
Offering the best superior support
Easy management of multiple stores
Smooth feedback process between buyers and owners
The extraordinary mobile shopping experience
Summary
Magento CMS development service has turned out to be one of the highly demanded requirements by eCommerce stores. Magento is regarded to be one of the best solutions for creating an interactive and feature-rich eCommerce website. It will help you to stay ahead of the existing global competition. Magento platforms usually get a lot of attention from buyers, eCommerce store owners, and merchandisers. Magento CMS development provides out-of-the-box solutions and they are guaranteed to meet the end-to-end requirements of the customers. Nearly 25 to 30% of the eCommerce websites are built on the Magento platform.
Allianze Technologies, being one of the top-ranked CMS development companies, offers the best Magento website development services at an affordable budget. If you are running from here to there for acquiring the best ways to build an interactive and customer-friendly website, hire our team of dedicated developers and the Magento community. Contact us at [email protected]