In the quick-paced world, where competition is more and at the attention span of people are low, it is a much needed for businesses to use innovative ways to display their products. In this blog, we will share you some effective ways that you can adopt for your ecommerce store.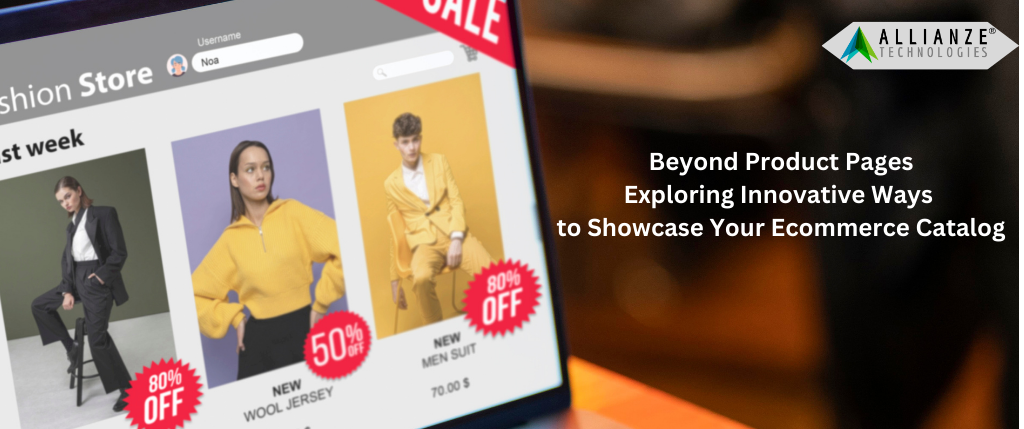 Importance of Ecommerce Management
Before we delve into the innovative approaches for product listing, let us look in detail the importance of ecommerce management.
Optimized Product Listing: It is the basis for successful ecommerce. By including popular and relevant keywords, top –resolutions images and detailed product images, you can improve the visibility of your ecommerce store. When you prioritize search engine optimization, you are actually increasing the chance for the improvement of sales and shopping experience.
Navigation Menu: A well-structured navigation menu is something that makes shopping easy and enjoyable for ecommerce users. Try to include categories, filters, and tags in your ecommerce store to create a user-friendly system. Following are the benefits that you achieve by including the above things
Categories: These will help the users to easily find the product they are interested in.
Filters: These enable the users to find product that at their affordable rates, preferred colour, size etc...
Tags: These will provide additional information regarding the product.
By offering seamless navigation you can grab more sales in your ecommerce store.
Responsive Design: With the increase in use of gadget, ecommerce stores must ensure that their website works seamlessly in all kind of devices that too in all sizes. That is whether your customer access your webstore in tablet, computer desktop or mobile, they must be visually appealing and user friendly. Once you give focus on high responsive designs, you can find a considerable increase in conversion rates.
Innovative Ways to Showcase Your Ecommerce Catalog
Interactive Images: Interactive images have become a pivotal element of ecommerce nowadays. Apart from the static images that have limited perspectives, businesses are choosing interactive product visualizations to boost the shopping experience. 360-degree product view is one such feature, that will allow customers to view the product from different angles. Augmented Reality is another feature that is employed to present the objects in a more attractive manner. This is mainly used to display furnitures and home decors. This feature will give the customer an opportunity to view how it will look when a new furniture piece is added to their space.
Video Content: Video content is another element that can grab the attention of your potential customers. You can demonstrate the features of a product in an appealing using video content. For example, for products like a hand blender, you can show the mixing of dough using a hand blender and show how finely it got blended. This feature will drive more conversions and keep your ecommerce store known in the marketplace.
Personalized Product Recommendations: Harnessing the power of machine learning, you can provide personalized product recommendations to your website visitors. It is by analyzing purchasing history and browsing data these algorithms can generate tailored solutions for customers. Machine learning can not only improve sales but also increase customer satisfaction.
Virtual try-on tools: This a special kind of tool that can be used to try clothing, make-up, and accessories virtually. Furthermore, these kinds of tools superimpose products on real-life images and live videos. By using these tools, a person can understand whether the product suits him or not. That is, this will strengthen the purchasing decision of a person.
Games: Integration of gamification elements in your website is another strategy that you can use in your ecommerce store. For example, spin wheel is a game that can attract customers. While creating spinwheels, include rewards like discounts, cashback, and flat offers. So beyond the mere visits to the website, people will engage in these games, and you can expect an increase in sales.
UGC: UGC stands for User-generated content, is a dynamic element used in ecommerce websites to boost sales. In this method, the user is encouraged to share their product reviews, which will be displayed on the website later. When website visitors see these reviews, they can make their decisions much more effortless. In short, UGC is actually fostering the brand's credibility and thereby driving more conversions for the business.
Live Chat and Virtual Assistants: Live chat and virtual assistants are features that can ensure more sales on your website. With this feature in your ecommerce website, you can offer human-like assistance to your website visitors. These tools help customers by answering their queries. When customers feel a human touch in your website, they feel more trust in the brand.In short, with this kind of personal assistance, ecommerce websites can achieve more conversion rates.
Subscription Services: Subscription services are an effective method you can implement to improve sales on ecommerce websites. You can apply this service for various kinds of products like pet supplies, beauty products or snacks. This kind of subscription not only establishes a consistent cash flow, but also gives an opportunity for your customers to buy different products. In a shorter period, you can boost customer loyalty and create a competitive edge among your rivals.
Integrating Lifestyle Content: Incorporating lifestyle content for displaying ecommerce products is one of the effective strategy to boost the sales. When you are integrating a lifestyle content to your product, the users get a feel that it clearly suits to your lifestyles and instances. For example if you are including this strategy for smartwatch, you can show a person walking and smartwatch displaying the distance the person covered. Also, you can show the smartwatch giving alerts for drinking water. This strategy not only improves the sales but also offers a high shopping experience for the user.
Final Thoughts
Now you may have understood that there are many interesting ways that you can employ to showcase products. Allianze Technologies is a company that offers ecommerce management and ecommerce web services to businesses of any size. You can approach us via mail id [email protected] if you are focusing to remain competitive in this business world.